Episode 6 represents a milestone for The Ship Show: our first guest!
When it comes to configuration management frameworks, CFEngine is always part of the conversation. We talk with the father of the configuration management tool and the CTO of CFEngine Mark Burgess and CMO of CFEngine, Mark de Visser about CM, CM tools, where CM intersects business needs, and the trends affecting CM today. Join us for:
A Conversation with CFEngine's Mark Burgess
Join J. Paul Reed, aka @SoberBuildEng, Youssuf El-Kalay, aka @buildscientist, Sascha Bates, aka @sascha_d, and back with us again, EJ Ciramella, aka @eciramella for a chat with Mark, plus coverage of the last couple of weeks in News & Views and a review of "The Facts and Fallacies of Software Engineering."
Or, download Episode 6, or any of our previous shows!
Show Links/Notes
1:38 – News & Views
9:29 – Main Segment: A Conversation with Mark Burgess

9:55 – What Mark has been up to…
13:55 – Promise theory?
18:08 – Specifyingconfiguration in domain-specific languages vs. the implementation language
21:29 – Operating system and CM?
22:24 – Thoughts on other CM frameworks
23:30 – CFEngine and open source
25:39 – CFEngine's unique open source community
28:53 – CFEngine User groups
29:23 – Mark's take on DevOps
32:14 – The shifting focus toward developers and its impact on CM
40:04 – The impact of cloud on CM
43:54 – Exotic CFEngine deployments
48:10 – Why is CM still so hard, even with all the tools we have?
52:35 – How to not "live in fear" of your systems
54:00 – Mark's response to Michael de Haan's criticisms of complexity
58:00 – We go all Inside the Actor's Studio with Mark, as he takes The Ship Show's version of the Proust Questionnaire
1:00:45 – Review
Review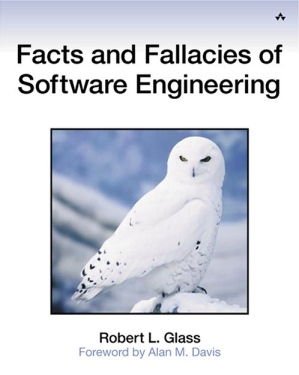 Facts and Fallacies of Software Engineering by Robert L. Glass.
Find it on Amazon!
Join Us!
Where do you think configuration management is going? And what role does CFEngine play?
Join the discussion!