Firmly in the holiday season, the Crew discusses the duties this time of year for RelEng and DevOps teams: what kind of activities are these teams taking care of this time of year, should releases be going out the door, and does it make sense to keep these teams "spun up" this time of year? Join us as we discuss what it's like to be stuck:
In the NOC for Holidays
Join J. Paul Reed, aka @SoberBuildEng, Youssuf El-Kalay, aka @buildscientist, Seth Thomas, aka @cheeseplus, and Sascha Bates, aka @sascha_d for the discussion, plus the last couple of weeks in News & Views and a story to get us all into the holiday spirit!
Or, download Episode 12, or any of our previous shows!
Show Links/Notes
1:03 – Peet's Holiday Blend
1:38 – News & Views
9:45 – Main Segment: In the NOC for the Holidays
40:42 – Twas the Night Before One-dot-0
Some Holiday Silliness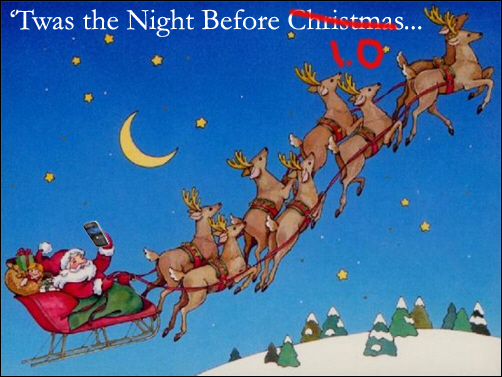 'Twas the Night Before One-dot-0, by The Crew and David Lutz.
Join Us!
How does your organization handle release engineering and ops issues during the holiday season?
Are you on-call? Are releases planned? How do they show you they're appreciative?
Join the discussion!