For our 2013 finale episode, the crew takes a look back at 2013, discussing the trends we predicted at the beginning of the year, as well as others that crept up on us. We also dust off our collective crystal balls and discuss what we think 2014 will bring for DevOps, cloud, and shipping software. Join us for our holiday of edition of the Ship Show as we:
Ringing in 2013++
Join J. Paul Reed, aka @SoberBuildEng, Youssuf El-Kalay, aka @buildscientist, Seth Thomas, aka @cheeseplus and Sascha Bates, aka @sascha_d for the discussion, plus a the last couple of weeks in News & Views plus a special holiday "treat!"
Or, download Episode 33, or any of our previous shows!
Show Links/Notes
Holiday Cheer!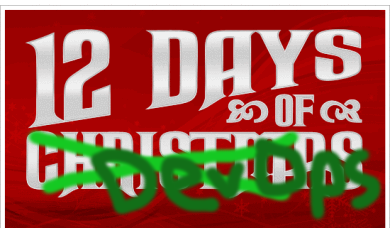 The Crew sings The Twelve Days of DevOps!
Join Us!
What were your favorite tech moments (or memes) of 2013?
What do you think 2014 has in store?
Join the discussion!