In episode 21, the panel discusses the delicate topic of when "enough is enough": whether it's organizational dysfunction, discovering that the role isn't right for you and your skills or passions, abusive management, or unethical requests, we look at the nagging yellow flags that pile up and can ignite into red flags that seriously starts your mind down the road of:
Going, Going… Gone.
Join J. Paul Reed, aka @SoberBuildEng, Youssuf El-Kalay, aka @buildscientist, Sascha Bates, aka @sascha_d, EJ Ciramella, aka @eciramella, and Seth Thomas, aka @cheeseplus, plus the last couple of weeks in News & Views and a review!
Or, download Episode 21, or any of our previous shows!
Show Links/Notes
1:57 – News & Views
12:29 – Main Segment: Going, Going… Gone
44:52 – Review: RELENG 2013 Workshop
Review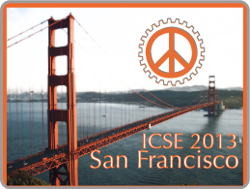 Paul reviews the RELENG 2013 Workshop, held as part of the International Conference on Software Engineering, held in San Francisco on May 20th.
Join Us!
What yellow flags have you run into in your career? What was the "last straw" before you gave notice? And what did the organization try to do, if anything, to change your mind?
Join the discussion!